Videos
These video clips were taken with my Fujifilm FinePix 50i. Files were saved under avi format but converted to RealMedia (RM) format using RealSystem Producer Basic 8.5, 'cos RM files are generally almost half the size of avi files. All my video clips have no sound (unless otherwise stated) in order to reduce file size.
To view these video clips you need to have at least RealPlayer version 8. Earlier versions of RealPlayer will NOT be able to view them. Since RealPlayer is free, do download the latest version. FYI, there is no RealPlayer version 8.1 or 9. After RealPlayer 8, the next version is RealOne Player. So don't be confused, its the same player just a newer version with new name!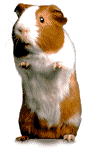 The video clips listed below are located on Yahoo Groups so you have to visit http://groups.yahoo.com/group/cyberpiggies & sign up as a member. You will be able to download videos of my cavies from there. You can also post messages or take part in polls too.

Oreo grooms herself. (12 sec, 1.06 MB)