This page is dedicated to my dearly departed cavies as well as those that have been given away. I shan't described the events that led to the cavy's passing because I'm sure people will fall asleep reading it. However I will explain why I gave away the cavy. If I have pics, I'll add them here. If not, it'll just be the basic info about the cavy.

Lala


Gender: Male
Age: Less than 2 months
Breed: Possibly a Himalayan
Colour: White & brown
Date of passing: Thursday 4 Jan 2000
Cause of death: Flu. Vet said he was very likely already ill when I got him from Aquapet Thomson Plaza.


Back to the top
---
Elmo


Gender: Female
Age: Less than 2 months
Breed: Abyssinian
Colour: White & brown
Date of passing: Wednesday 9 Feb 2000
Cause of death: She had diahorrea but was on medication. When I found her, her nose & mouth were wet. So I really don't know what happened.


Back to the top
---
Pikachu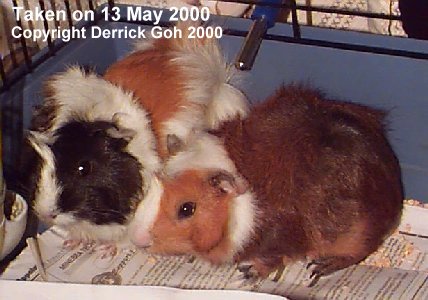 Pikachu is on the right. Mum Oreo is on the left.
Gender: Male
Age: About 3 months
Breed: Agouti Abyssinian
Colour: White & brown
Comments:
Born on 15 March 2000, his birth was unexpected 'cos neither Melissa or I knew Oreo was pregnant. I saw him grow from a tiny little furball to his existing size & needless to say, it was a tough decision giving him away but I really had no other choice. I didn't want my females getting pregnant & neutering is too risky. I don't have the time to maintain 2 seperate cages, so seperating him from the gals is not possible. He is just so cute especially when he stretches out & extends his legs as he yawns & exposes his teeth. I fondly nicknamed him "Big Nose" 'cos he has the pointiest snout of my cavies.
I bought another female from Melissa (I now have 3 females in the cage) & although she is very adorable, I'll never forget Pikachu. My only regret is I wouldn't get to see him when he's a full grown adult. The gal who bought Pikachu on 17 June 2000 was referred to me by Melissa, so I hope she'll take good care of Pikachu.
Back to the top