Not really toys but....
Chew blocks are not really toys but I don't really know wherelse to put them! Besides I guess cavies do have fun gnawing them so what they heck, a "toy" it is!! No harm trying these but some cavies will ignore them totally or after a while. Commercially produced chew blocks come in different flavours and as the name implies, they are for cavies to chomp on & wear down their teeth.
These chews are usually either made from wood or a combination of corn starch & other things to form this rock hard blob. Wooden chews are more common but avoid those that are coloured. Colouring is bad for cavies so never give coloured wooden chews. Flavoured chews should also be avoided since too much artificial flavouring is bad.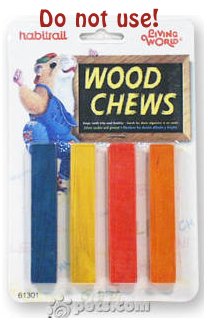 There are natural wooden chews with no artificial colours or flavours. One such natural chew is "SuperPet Bark Bites" (pictured below). They come in 2 sizes & I first saw them at Pet Lovers Centre at Simei. The one I bought was the 6 piece pack which retails for $3.10. "Bark Bites" supposedly contains parts of the cambium layer of a tree. This cambium layer carries nutrients between roots & foliage & is rich in nutrients. If that's true then "Bark Bites" not only help our furry friends wear down their teeth but are also a source of nutrients.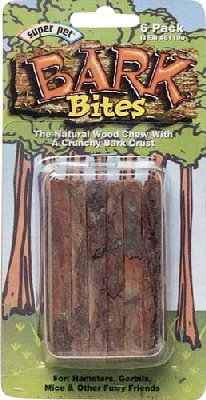 However I notice "Bark Bites" tend to be covered with lots of saw dust. Not good when inhaled. So I suggest you brush off as much as you can before giving it to them. Don't use your fingers to brush unless you want to risk getting a splinter! PLC at Simei also sells SuperPet Critter Ka-Bobs which are meant for holding things like apples, carrots, pears, etc just like a shishkabob. If you like you can connect the "Bark Bites" to the Critter Ka-Bob & hang it from the cage. I just leave it on the floor. There's a pic of the Ka-Bob below.

Another natural chew is the Superpet Cholla Chews (pictured below) which is supposedly sun dried cactus. I'm not sure how its like compared to Bark Bites but since there's no artificial colouring or flavours, it is safe to give your cavies.

Back to the top