Miscellaneous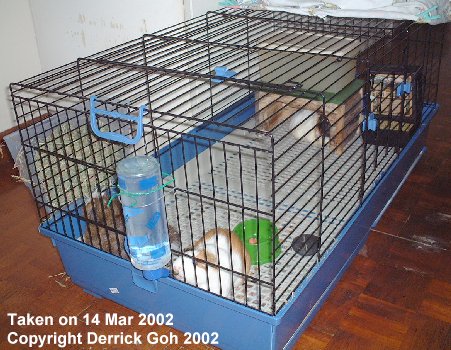 Marchioro "Tommy 100" cage
$162 - Joy Doggy


This cage is a massive 100 X 53 X 47 cm (L X W X H) or 38.5 X 20.5 X 18.5 inches and as you can see from above, the girls have plenty of place to run even with the hut in the house. It has two removable trays below the grid as you can see from the picture below. So you can slip out the two trays, change the litter & don't disturb the furballs. The "Tommy series" comes in 3 sizes & my cage is the second largest. The largest Marchioro cage is 118 X 58 X 52 cm but has no plastic grid. For the record, my cage could barely fit in the car!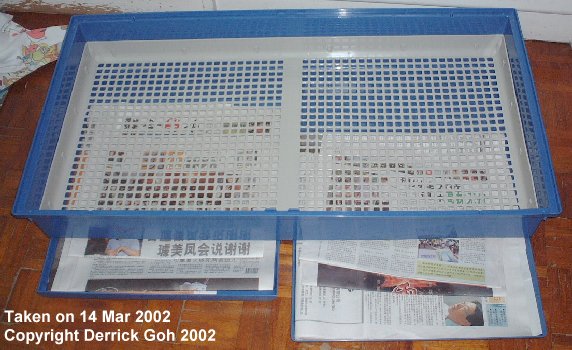 In addition, this cage also has two doors. One is by the side & measures 24.5 X 26.5 cm (L X W) while the other door is on the roof measuring 65.5 X 40.5 cm. I recommend the top opening be used only for putting in big things like huts. Cavies should always go by the front door. You wouldn't want to accidentally drop them from the top door!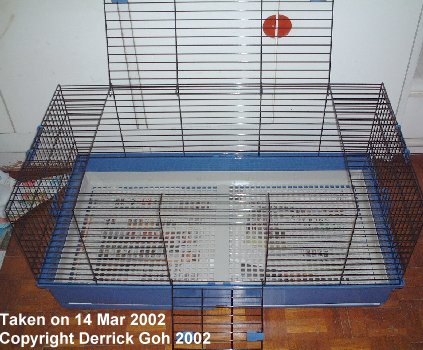 The bars on the width are vertical while those on the length are horizontal. This versatility will be useful 'cos some accessories only work with vertical or horizontal cage bars. It comes with a plastic hay rack (pictured below) which is different from what we are used to. This rack attaches to the outside of the cage & the opening is facing inside the cage, allowing cavies to eat from it. I find it works as well as the normal wire type racks although one has to be careful 'cos if not attached properly, all the hay will fall out the bottom in no time. Also, all it takes is one bump to dislodge the rack so care is needed.
I cover the grid with a piece of Coroplast so this cage becomes like a normal plastic bottom cage & I use it with Breeder's Choice bedding. More info on the Coroplast sheet in my "housing" sub-page.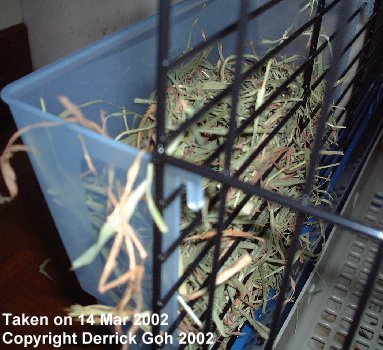 ---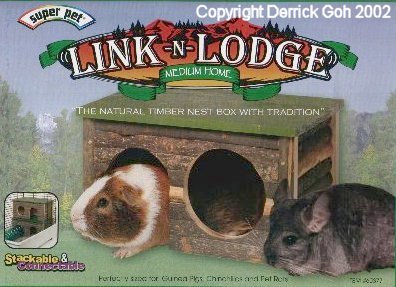 Superpet Link N' Lodge Timber Home
$28 - Planet Pets


Very simple to assemble. The 2 openings in front are a little too small for most adult cavies so you may have to modify the front by sawing & sandpapering it. It can fit one cavy but two can squeeze in provided they're willing to share. I don't glue the roof on so that I can remove it in case of emergencies.
---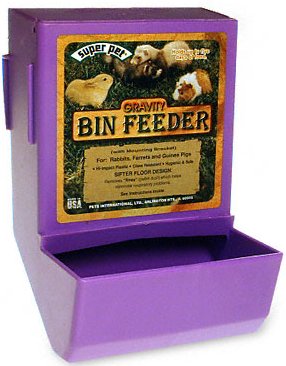 Superpet Gravity Bin Feeder
$15.55


This feeder has a feeding area which is large enough to prevent pellet blockages. Your cavies also don't have to struggle to eat, compared to a hopper with small feeding area. There is also a sifter base to ensure food dusts falls through to the floor, instead of being inhaled.
---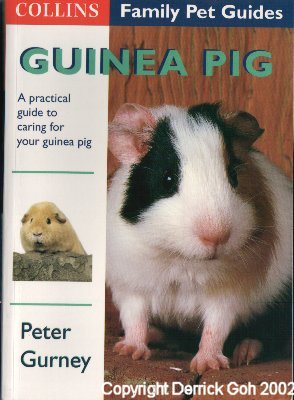 Collins Family Pet Guides - Guinea Pig
$22.56 - Kinokuniya Bookstore


This book may not be detailed enough for experts but is more than sufficient for beginner to intermediate cavy owners. It has a good combination of info ranging from bedding & food to medical & history. Some books I've seen often miss out a section or 2 but not this book. If you ever need a book to refer to, this is the one! You can try emailing the author, Peter Gurney, who is 1 of the most well known Cavy experts in the UK. He does reply from time to time.

Back to the top